Mac-Nutrition Workshop – DUBLIN 2013 | PLEASE NOTE THE CHANGED DATE!
---
Friday 8th 15th March | 19:00 – 21:30 | Dublin City University | Publicised by Ireland Athletics
(Please note the change in date from Friday 08.03.13 to Friday 15.03.13)
BUY TICKETS (Limited Spaces so book early. Early Bird discounts before 26th February)
This is the first ever public Mac-Nutrition Seminar to be held in Ireland. Attendees will leave having all their confusion and questions about conflicting nutrition information answered! This talk will give the attendee a background with which he or she can decipher other publicised nutrition information. It will also provide some really practical dietary tips that can be taken away and implemented to achieve a variety of goals. Anyone can attend this session, from the complete novice to personal trainers, nutritionists, athletes etc. Anyone wanting to learn about evidence based nutrition rather than that based on media hype and or outdated guidelines. The information will be presented in such a way that no prior knowledge of biochemistry, physiology or nutrition is needed. However, some slides will contain more in-depth information for those who want to advance their knowledge.
Clear up many of the nutritional myths or dogmas that surround certain areas of nutrition
Give the attendee the tools to be able to decipher other publicised nutrition information
Give practical tips that you can be taken away and implemented to suit a variety of goals from performance to weight loss to general health
Provide adequate time for questions and answers
NB: There will not be a sole focus on sports nutrition, however, the content of the talk will provide insights into manipulations of the diet that are necessary for different sports, goals etc.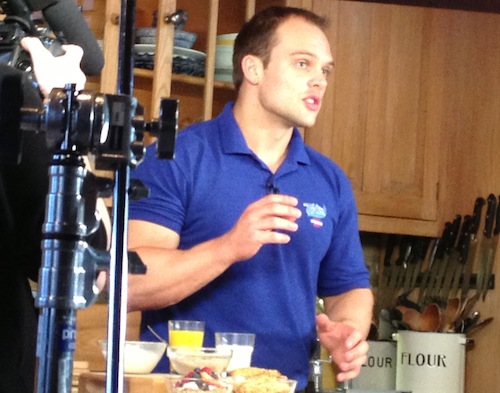 Clinical performance nutritionist, Martin MacDonald, has a wealth of knowledge on nutrition ranging from nutrition for weight loss and health in the workplace to nutrition for optimising sports performance. Martin is becoming well known for his 'busting' of the numerous nutrition myths that pervade the media and alike; he recently gave a talk at the British Association of Sport and Exercise Medicine conference on the numerous messages that medical professionals give that lack any real efficacy for improving health or causing weight loss.
Martin is currently the lead nutrition consultant for a large number of sporting bodies, clubs and athletes including Derby County FC, Leicestershire Country Cricket and British Weightlifting as well as working with a number of Irish athletes including David Gillick, Ava Hutchinson and Justine Kinney. He supported both the Olympic Weightlifting and Paralympic Powerlifting teams during the 4 year run up to and at the London 2012 Olympic Games. Martin has also been the nutritionist behind numerous celebrity transformations including Jennifer Ellison, Clare Nasir, Hannah Waterman and others.